Compounding Machine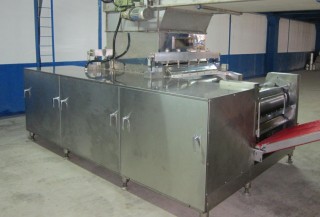 Compounding Machine
This noodle machine consists of three sets of dough sheeting rollers. After pieces of dough are pressed into the sheeting rollers, they are then formed into a blank by the third roller as dual-layer dough sheet. Material is fed by the signal from photo sensor, under whose control compounding and stretching are synchronous and through which the thickness of the noodles in the dough sheet arc can be adjusted more even.
TAG: Multi-layer dough sheet,
Contact Taiwan Lih Tay to Get a Quotation Now!